One former 1039 (Gillingham) Squadron cadet who is forever remembered by the squadron is David A. Wood. A former Cadet Warrant Officer, David Wood saw active service with the RAF Regiment and the Parachute Regiment, before losing his life in the Falklands War on 28 May 1982.
Biography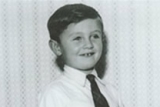 David Wood was born in Newport, Fife, on 15 January 1953, as the eldest of three sons of Jean and Alastair. He was brought up in Kennoway, Fife, where he joined the Cubs at 8 then the Scouts at 11. In the same year, he gained entry into Buckhaven Grammar School, and then in time he joined 2319 (Vale of Leven) Squadron Air Training Corps.
In 1969, the family moved to Gillingham, Kent, where David continued to study at Gillingham Grammar School. He was, however, distracted from his studies by his intense interest in the Air Training Corps. His growing leadership talents were acknowledged, and he quickly rose to the rank of Cadet Warrant Officer.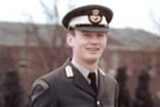 In 1973, David was commissioned into the RAF Regiment, after failed efforts to become a pilot, and saw tours in Salalah (Oman) and Northern Ireland. He also got experience of Germany, Hong Kong and Denmark during his three years with the Regiment. Then in November 1976, his request to join the Parachute Regiment was accepted.
Between 1976 and 1981, David served in Cyprus, then Canada, Kenya, America and Northern Ireland. He took up sports including parachuting, sub-aqua diving, fly fishing and discovered skiing in Switzerland during his last Christmas, 1981. Meanwhile in the Parachute Regiment, he was promoted to Captain and posted to the 2nd Batallion of the Parachute Regiment (2 Para) as their adjutant.
The original plan for 1982 was jungle training in Belize, but the Argentinian invasion of the Falkland Islands prompted 2 Para's Commanding Officer to cancel their Belize deployment, and they boarded the North Sea ferry Norland instead. It was on this ship that 2 Para landed in the Falkland Islands on Friday 21st May 1982.
Seven days later, the battle for Goose Green began…
The Battle for Goose Green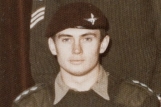 In the theatre of operations that was the Falklands Islands, the battle for Goose Green should have been, by rights, insignifcant and quick. The plan was to raid the Argentine garrison at Goose Green, and should have been over in a very short period of time.
However, the first land battle of the Falkland Conflict became a "vicious, 14-hour infantry struggle, in which 2 Para – outnumbered, exhausted, forced to attack across open ground in full daylight, and with inadequate fire support – lost their commanding officer, and almost lost the action."
As the adjutant, Cpt. Wood's role was typically at Batallion HQ, but he preferred to be in the action, with Commanding Officer and close friend Lt-Col Jones. He was his typical, jovial self when trying to keep up moral, and when A Company were pinned down beneath Darwin Hill, Cpt Wood was heard to say "Come on lads, remember Arnhem!" (one of 2 Para's most prized battle honours). Throughout the battle he was his typical, courageous self, wise-cracking and encouraging others, right up to the moment he was hit.
Only a few minutes later, Cpt Wood and two colleagues, A Company's second-in-command Captain Dent and Corporal Hardman, were felled by bullets from a machine gun post they were attacking.
He was killed instantly.
Minutes later, the CO gave his life trying to keep up the momentum of the attack. Neither the adjutant nor the CO knew of the famous victory, when the much larger Argentine garrison surrendered.
Lieutenant-Colonel Jones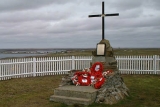 Lieutenant-Colonel Herbert Jones, known simply as Colonel 'H' because he disliked his name, was close to his adjutant in the 2nd Batallion Parachute Regiment.
There was a substantial difference in age and rank between Colonel 'H' and Captain Wood, but the two shared an unbreakable bond of friendship, one which led to the unorthodox action of the adjutant leaving batallion headquarters to fight alongside his commanding officer at Goose Green.
This practice had been established during training in Kenya, 1981. Whereas normal protocal demands the adjutant remain at batallion headquarters while the CO goes forward and commands, Colonel 'H' had been accompanied by Captain Wood everytime he left batallion headquarters, to the extent that it would be strange had this practice not been followed at Goose Green.
Although not knowing who had stormed the 'makeshift' trench (natural cover was provided by a spur in a gully bisecting Darwin Hill, an important strategic position in the fight for Goose Green), Colonel 'H' witnessed three of his men mown down and killed by intense machine gun fire during an attempt to advance on the spur. He could not have known who they were (officers and soldiers were dressed identically and rank badges could only be seen from the front at close range), but he would have seen three of his men fall. It was a sort of kindness that he could not have known that amongst these three was his adjutant, his close friend, Captain Wood.
Just a few minutes later, an Argentine machine-gunner took aim at a soldier who was scrambling towards his comrade's trench. "The rounds at first flicked up the dirt below the target; then, with a slight elevation of the barrel, they struck home, hitting the soldier in the small of the back, flinging him forward, almost to within touching distance of the trench. The figure lay still on the grass."
Lieutenant-Colonel Jones had been mortally wounded.
"This was an action of the utmost gallantry by a Commanding Officer whose dashing leadership and courage throughout the battle were an inspiration to all about him." – Colonel 'H's Victoria Cross Citation.
The Aftermath
From SAMA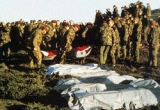 "David's body was brought back to Ajax Bay, where he was temporarily interred, along with sixteen colleagues who had also died in the battle. The moving service was conducted by the Battalion's padre, and attended by over two hundred fellow Paras and Royal Marines. Eleven of the dead were officers or NCOs, demonstrating the British military's clear understanding of the principles of leadership. Later on, his body was repatriated, and now lies alongside his grandparents in the churchyard at Kennoway.
"Ironically, David had received, in the run-up to Goose Green, the news that he had passed the difficult preliminary examination for Staff College. The way had been opened to a career that might have reached the rank of Major General. He was a very fine human being – a tough but popular Parachute Regiment officer who was held in huge regard by all who knew him. His parents survive him; he will live in their hearts – and those of many others – forever."
This was the first war in which British servicemen killed overseas were returned to Britain for a "proper" burial. Until the Falklands, servicemen where left in whichever Country they had tragically fallen. 23 bodies remained at the Blue Beach Military Cemetery, San Carlos, and many of the men who died at sea were never found.
During the 25th anniversary commemoration events, David Wood's mother, Mrs Gene Wood, who now lives in Kennoway, Fife, accompanied Colonel Benest at a Service of Thanksgiving at the Falklands Islands Memorial Chapel in Pangbourne, Berkshire. She told the Ministry of Defence's news website:
"David joined the RAF Regiment after the Air Training Corps but he wanted more excitement so he resigned his commission and applied successfully to join the Paras. I am very proud that my son did the right thing. I have visited the place where my son died and that together with a national monument helps me to come to terms with his death."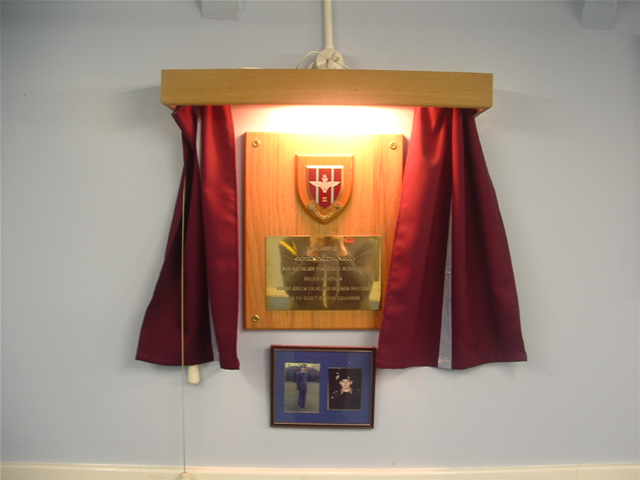 All information on this page has been researched by Mr Alan Collins. If you have any further information, personal memories or photographs of David Wood, please get in touch with him via 1039@aircadets.org.