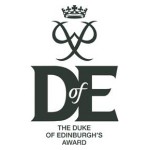 The Duke of Edinburgh's Award is for everyone who likes a challenge – and every cadet at 1039 Squadron aged 14 or over will have the opportunity to take part.
The DofE mission is "to inspire, guide and support young people in their self-development, and recognise their achievements" and every participant will be taken through a programme of activities that will leave them a more confident, motivated and capable person.
Indeed, the Air Cadet Organisation believes in the opportunities the DofE can provide so much they are proud to be the Award's largest participant.
What's Involved?
There are three different levels participants can work towards: Bronze, Silver and Gold. Older cadets may even be able to start at Silver or Gold. The award is split into five sections, the first four are completed at Bronze and Silver level and Gold participants must complete all five. They are:
Volunteering;
Physical;
Skills;
Expedition; and
Residential.
Our Duke of Edinburgh's Award Officer, Sergeant (ATC) Daniel Pearmain, is at hand to provide more information to interested cadets and get them started on the Award.