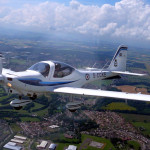 Two of the most popular activities offered to members of the Air Cadet Organisation are flying and gliding. Every cadet will get opportunities to do both throughout their time with 1039 Squadron.
Flying in the ACO is offered through Air Experience Flights (AEFs). There are currently 12 AEFs across the country and 1039 Squadron is typically offered places at two AEFs, although cadets may be offered an opportunity to fly at a different AEF whilst on annual camp.
Whilst on an Air Experience Flight, cadets are taught basic flying and aerobatics by experienced pilots in the Grob Tutor, and more experienced cadets may also be taught to taxi, take off and land.
Gliding in the ACO is offered through Volunteer Gliding Squadrons (VGSs). VGSs are run at weekends by volunteers who dedicate their time to teach cadets.
In addition to regular flying and gliding opportunities, cadets may also apply for places on flying and gliding scholarships, which are week-long courses covering more advanced aspects of flying and gliding.
Flying scholarships are also offered by the Royal Air Forces Association.