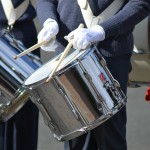 If you enjoy playing music, there may be a place for you on the squadron band.
Music is one of the most popular activities offered by the ACO, and you can get involved in playing a wide variety of instruments at squadron, wing and region level – and if you are really talented you might even find yourself playing for the National Concert Band, performing at a host of prestigious venues including Buckingham Palace.
Instruments you could end up playing include saxophones, bugles, trombones, drums and basses – and whether you are a complete beginner or have been playing for years, we'll help you learn and perform to the very best of your ability.
Playing with the ACO can also lead to a formal qualification.
BTEC First Diploma in Music (equivalent to 4 GCSEs, A-C grades)
This course helps cadets develop a basic understanding of music as a profession, and combines both technical skills with practical elements and research. Cadets will have demonstrated an understanding of all aspects of performance, including solo and ensemble work and how to manage rehearsals. Cadets also learn how to market, budget, advertise, programme and publicise a music event. Interested cadets will be expected to be able to play a musical instrument prior to enrolling on the course, but do not have to be able to read music.