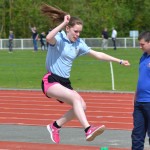 The Air Cadet Organisation encourages all cadets to take part in the seven main sports activities on offer and organises frequent competitions in athletics, cross country running, football, rugby, hockey, netball and swimming.
1039 Squadron regularly participates in inter-squadron competitions organised by Kent Wing. The best cadets are then selected to represent Kent in the inter-wing competitions organised by London and South East Region (L&SE). The best cadets there are chosen to represent L&SE in the inter-region competitions. The very best cadets are then given the chance to represent the Air Cadet Organisation nationally and even internationally.
Sports are also a good way of building friendships and fostering self-discipline and teamwork among cadets whilst encouraging a healthy lifestyle.