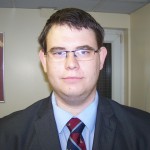 1039 (Gillingham) Squadron have tonight said goodbye to our Media & Communications Officer.
Alan Collins, a civilian instructor with Gillingham Squadron since February 2013, has attended his last parade night with us before he moves to another squadron.
The move brings to an end his second spell with Gillingham Squadron and his first as an adult volunteer.
Mr Collins first joined Gillingham Squadron as a cadet in January 2003. He spent over six years with the squadron, reaching the rank of Cadet Warrant Officer and enjoying a wide range of the opportunities the RAF Air Cadets offer.
Although he left in July 2009, he was always destined to return to Gillingham Squadron and in February 2013 he became a civilian instructor. He took on the role of Media & Communications Officer and ran the squadron's inter-flight competition.
Mr Collins is not moving far, however, as he is taking on a new role with 25 (Parkwood) Squadron, a former detached flight of Gillingham Squadron, initially providing administrative support for the various BTEC qualifications available to cadets.
Mr Collins said, "I have many fond memories of Gillingham Squadron, both as a cadet and an adult volunteer, and I will always consider it to be my home.
"However, I am looking forward to a new challenge, learning how a different squadron is run and gaining wider experience which I can use to the benefit of the cadets."