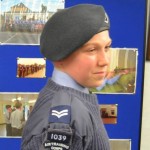 An RAF Air Cadet from 1039 (Gillingham) Squadron has been nominated for an award after receiving praise for his quick-thinking.
Cadet Corporal Ryan Smith has been nominated in the Young Hero category of the Pride in Medway Awards following his bravery in entering a burning building on Saturday, 13 June.
The 16 year-old cadet noticed smoke coming from the property in Rock Avenue, Gillingham, and instinctively dialled 999 for help. He then entered the property to make it safe and warn the occupants.
Cdt Cpl Smith was nominated for the award by Shaun Humphries, a crew manager at Medway Fire Station, who told the Medway Messenger that he "was just passing the house when he heard the smoke alarms sounding and spotted smoke billowing out of the ground floor kitchen window and immediately phoned 999.
"Without thinking about his own safety, he went into the house, made sure that everyone got out safely, and then closed the kitchen door. He also put a duvet at the bottom of the door to stop the smoke spreading through the building and closed the internal doors on his way out."
Cdt Cpl Smith said "I've been an Air Cadet with Gillingham Squadron since I was 13 and one of our training sessions was spent at RAF Brize Norton, where we learned the basic roles and techniques of what to do in a fire situation. I was pleased to be able to put this training into use and make a difference."
Nominations for the Pride in Medway Awards remain open until 4 December, after which finalists in each category are chosen and invited to the awards ceremony in the Spring.