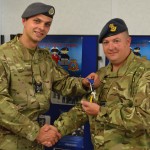 1039 (Gillingham) Squadron have tonight welcomed their new Officer Commanding, Flight Lieutenant Kevin Powell RAFVR(T).
Flt Lt Powell takes over from our current Officer in Charge, Sergeant (ATC) Matthew Bairnsfather, who has been running the squadron since the retirement of Flt Lt Paul Collins.
The evening marks the beginning of Flt Lt Powell's second term at Gillingham Squadron, having originally transferred from 173 (Orpington) Squadron as an Adult Warrant Officer in 2004.
Formerly a Secure Communications Officer in the Royal Air Force, he moved to 25 (Parkwood) Squadron as Officer in Charge in 2011, and was commissioned as a Pilot Officer in January 2012. He received his promotion to Flight Lieutenant on taking command at Gillingham Squadron, and is also Deputy Fieldcraft Officer for Kent Wing.
Flt Lt Powell said "I am delighted to be back at Gillingham Squadron, and looking forward to building on Flt Lt Collins' legacy, which Sgt (ATC) Bairnsfather has been continuing with great enthusiasm. My aim now is to make Gillingham Squadron the best in Kent Wing."
Sgt (ATC) Bairnsfather, who will be Flt Lt Powell's second in command, as well continuing as SNCO in charge of discipline, added "I am pleased to see Flt Lt Powell return to Gillingham Squadron and look forward to working closely with him for the benefit of the cadets. I am very excited for the future of the squadron under Flt Lt Powell's command."