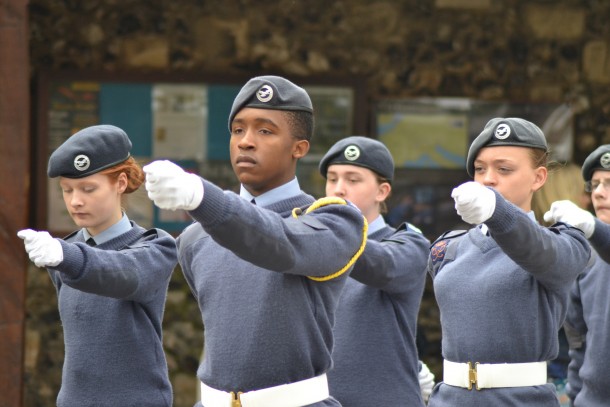 RAF Air Cadets from 1039 (Gillingham) Squadron marched through Canterbury High Street on Saturday, 21 May, to commemorate the 75th Anniversary of the Air Training Corps.
More than 500 cadets and 50 adult volunteers from across Kent marched from Pound Lane to Canterbury Cathedral, where they joined a further 250 cadets and invited guests for a service to celebrate the landmark anniversary.
The cadets marched past Air Vice Marshall Malcolm Brecht, Chief of Staff for Capability at HQ Air Command, and Air Commodore Dawn McCafferty, Commandant Air Cadets. They were joined at the Cathedral by guests including The Viscount De L'Isle, the Lord Lieutenant of Kent, and Mrs Kathryn Smallwood, the High Sherriff of Kent
The Air Training Corps was formed on 5 February 1941 by a Royal Warrant Issued by King George VI and currently consists of over 42,000 cadets across the United Kingdom. In Kent, there are 1,206 cadets who attend meetings twice a week at one of the county's 34 squadrons, assisted by 302 adult volunteers.
The parade and service in Canterbury is one of many taking place across the country throughout 2016, and was the first time that a county-wide public parade had been organised for 35 years.
22 cadets from Gillingham Squadron took part in the parade, together with our Officer Commanding, Flight Lieutenant Kevin Powell, and Sergeant (ATC) Matthew Bairnsfather.
Sergeant (ATC) Daniel Pearmain assisted with marshalling, while Civilian Instructor Alan Collins was part of the Kent Wing Media Team, taking photographs of the parade.
After the parade, Flt Lt Powell said "this was the biggest public cadet event in Kent for 35 years and I was pleased to see how enthusiastic our cadets were about taking part.
"We have a lot of younger cadets and for many of them this was their first public parade, yet they all threw themselves into learning marching drill and I was impressed at the high standard they achieved in a very short period of time.
"All of the cadets did very well in front of not only the people of Kent, but also a number of important guests, and I am proud of the role each and every single one of them played at such a prestigious occasion."