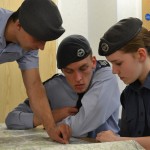 In addition to the extensive opportunities available to our cadets, members of the Air Cadet Organisation can also study towards formal qualifications which will impress on any CV.
Together with the Cadet Vocational Qualifications Organisation (CVQO), the ACO can offer cadets the following qualifications:
BTEC Certificate in Aviation Studies
Cadets are automatically entitled to this qualification once they have completed the Master Cadet training syllabus.
BTEC Award in Aviation Studies
Cadets are eligible for this once they have completed First Class and Leading Cadet training, however there is a small registration fee for this award.
BTEC Level 2 in Teamwork and Personal Development in the Community
Most of the content of this internationally respected qualification is covered by activities cadets already undertake during their time with us. There is also a project and workbook to complete, and the syllabus covers both theory and practical elements with an emphasis on leadership, teamwork, communications, problem solving and fitness. The syllabus also includes professional CV preparation, interviewing techniques, communication, first aid, adventure training, health and nutrition. All cadets between the ages of 16 and 19 are eligible for this BTEC.
BTEC Level 2 in Music for Practical Performance
This course helps cadets develop a basic understanding of music as a profession, and combines both technical skills with practical elements and research. Cadets will have demonstrated an understanding of all aspects of performance, including solo and ensemble work and how to manage rehearsals. Cadets also learn how to market, budget, advertise, programme and publicise a music event. Interested cadets will be expected to be able to play a musical instrument prior to enrolling on the course, but do not have to be able to read music.
First Aid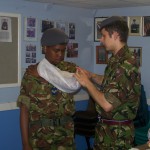 Staff at 1039 Squadron are qualified to instruct the British Heart Foundation's Hearstart programme, and carry out the practical examinations. The Heartstart programme covers basic, yet life-saving, skills, including assessing an unconscious patient, performing CPR, dealing with choking, serious bleeding and helping someone that may be having a heart attack.
In addition to the Heartsart programme, cadets are offered the opportunity to attend a weekend residential first aid course accredited by St John's Ambulance. Successful completion of this course will result in the cadet being awarded a certificate by St John's Ambulance.
Cadets over the age of 18 may also undertake the First Aid at Work course.